Lighthouse Vuurduin Vlieland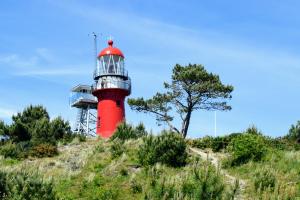 If you want a nice view of Vlieland, you should definitely climb the lighthouse. To get to the top of the Vuurboetsduin, you will have to make a 42 metre ascent. This dune is the highest of the Wadden Islands, on top of which the lighthouse stands proudly.
The lighthouse of Vlieland is located on the 42 meter tall Vuurboetsduin dune just outside the village of East Vlieland. The lighthouse itself is only 18 meters tall. After dark, the light from the lighthouse shines, this happens fully automatic.
Every lighthouse has its own code, that of the lighthouse of Vlieland is 2 seconds on, 2 seconds off. From the lighthouse you can enjoy fantastic views of the island, the North Sea and the Wadden Sea. Your climb will be quick, for the tower has only 51 steps.
It is possible to visit the lighthouse throughout the year.
Characteristic
Name: Vuurduin
Built: 1876
Tower height: 16,8 m
Light height (above sea level): 54,0 m
Floors: 3
Stair treads: 51
Manned: No
Open to the public: Yes. The door is open between July and October.
Furthermore Lighthouse Vuurduin Vlieland is near the following sights: Nicolaaskerk (±450 m), Visitor Center De Noordwester (±500 m), Oude Raadhuis (±500 m), Tromps Huys (±600 m) & Port of call Vlieland (±2,2 km).
For information:
Vuurtoren
Badweg, Vlieland