Nicolaaskerk - Church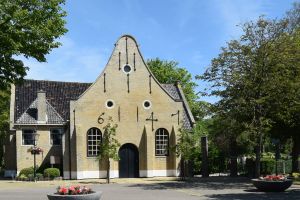 Bezichtig de historische Nicolaaskerk op Vlieland van binnen, bewonder de walviskaken, het juthout en de kroonluchters die ooit geschonken zijn door Michiel de Ruyter.
Voordeuren open
Gedurende een groot deel van het seizoen zijn de monumentale voordeuren van de kerk geopend. U kunt dan vanuit het portaal een blik in de kerk werpen.
Openstelling
In de periode juni t/m september is de kerk op woensdagen van 10-12 uur geopend om eens rustig binnen te kijken. We hopen op een mooie vrijwillige bijdragen voor het restauratiefonds van de kerk (want het kost veel geld om een oud gebouw te onderhouden).
Rondleidingen
Af en toe zijn er ook begeleide rondleidingen door de kerk. Voor groepen is een bezichtiging op afspraak ook mogelijk, zie hier de website van de Nicolaaskerk.
Furthermore Nicolaaskerk is near the following sights: Visitor Center De Noordwester (±70 m), Oude Raadhuis (±70 m), Tromps Huys (±175 m), Lighthouse Vuurduin Vlieland (±450 m) & Port of call Vlieland (±1,7 km).
For information:
Kerkplein, Vlieland
web.
Website
Location